Salt intake has been widely studied in animals. It is not known if similar mechanisms could occur in humans, but in animals, long-term increases in salt preference are caused by sodium depletion, pregnancy, and lactation. Increased salt preference in animals also occurs after perinatal loss of minerals and fluids.
Animal studies have shown that there is a consistent physiological model that determines salt intake. In particular, sodium deficiency activates the renin-angiotensin-aldosterone system, which can induce a long-term preference for salt. Studies with rats have also demonstrated that prolonged increases in salt intake occur as a result of fluid and mineral loss.
Similarly, in humans, maternal vomiting that causes fluid loss and electrolyte imbalance may increase salt preference in newborns, and it could affect them even into adulthood. A continuous loss of fluids and minerals, which can occur in chronic kidney and gastrointestinal diseases or in frequent episodes of diarrhea and vomiting, can also perpetuate salt preference.
However, human research on salt preference has focused on geographic or cultural patterns, especially during childhood. Although the studies demonstrate certain tendencies, they do not contain conclusive results.
Further Investigation: A Human Study
In 1997, a group of Israeli researchers conducted a study titled "Salt Preference in Adolescence Is Predicted by Common Prenatal and Infantile Mineralofluid Loss" to identify early determiners of salt preference in humans. The researchers believed that other events that induce fluid and mineral loss could have similar effects on the avidity for salt in humans. Furthermore, if these events, such as vomiting and diarrhea, occurred often in childhood, then they might cause a long-term salt preference.
For the trial, fifty adolescents between the ages of eleven and eighteen were selected together with their mothers. The adolescents were told, in general terms, that they would participate in a soup- and tea-tasting study and that they would be interviewed. Their mothers would fill out some questionnaires.
The preferred concentrations of salt in the soup were tested to determine the adolescents' avidity for salt. The researchers also observed their voluntary consumption of salty snacks. The adolescents also completed salt consumption self-reports and dietary questionnaires.
During the interview, the participants were invited to eat freely from a selection of salty sandwiches and sweet snacks. The researchers also verified each participant's preferred salt concentration for the soup and preferred sugar concentration for the tea. The adolescents then took home a questionnaire on mineral-fluid loss history for their mothers to fill out and returned it the next day.
The Results
The researchers found that some conditions that involve fluid and mineral loss, such as vomiting and diarrhea, increase salt avidity. When this loss occurs early in life, it can contribute to permanent higher salt intake.
The findings also suggest that other causes of mineral and fluid loss, such as hemorrhage, dehydration from exercise, and neonatal diuretic therapy, may also increase salt avidity and concomitant health risks.
These findings indicate that the physiological regulation of salt preference is long-term and that it is determined early in human development, affecting innate preferences and learning.
Consult a pediatrician if there are concerns about a child's salt intake or overall nutrition.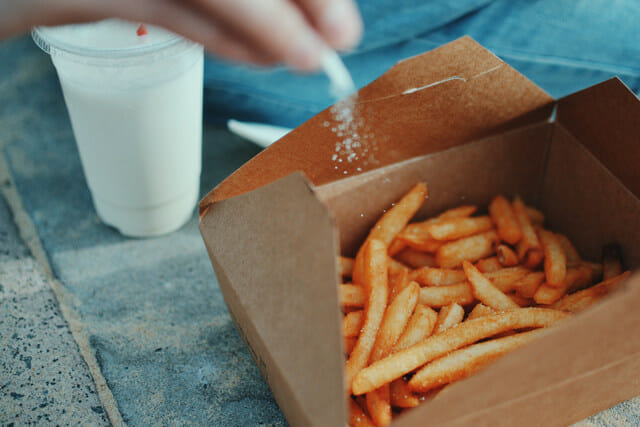 Reference
Leshem, Micah. "Salt Preference in Adolescence Is Predicted by Common Prenatal and Infantile Mineralofluid Loss." 
Physiology & Behavior
63, no. 4 (1998): 699–704. Retrieved from
https://www.sciencedirect.com