Did you know that there are android apps that help pregnant women with everything related to their pregnancy?
Pregnancy trackers keep track of everyday happenings and expectations and help pregnant women handle any challenges or complications that may arise during the pregnancy. Using pregnancy trackers makes the whole experience easier to handle.
Here are the most commonly used pregnancy apps and their features.
1. Totally Pregnant
The Totally Pregnant Android app is available for free on phones and tablets. The app describes each stage of the pregnancy journey, addresses the highlights and challenges of pregnancy, and includes testimonials and tips from other pregnant women.
The Totally Pregnant app also features pregnancy videos, blogs, and discussions that provide insights about the pregnancy journey. Women can also learn how to calculate their due date, shop for pregnancy products, store pregnancy photos, scan documents, and get recipes for recommended meals.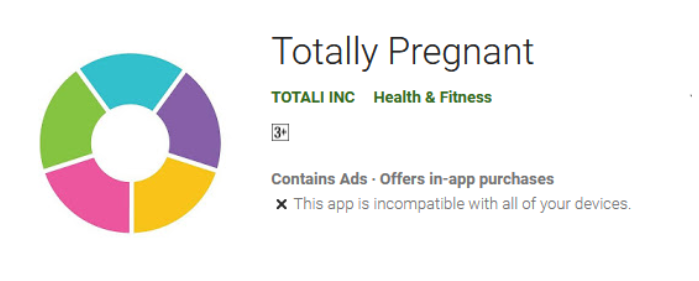 2. The Bump Pregnancy Tracker
The Bump Pregnancy Tracker gives women access to articles and editorials related to pregnancy symptoms and development. It is available for all Android devices. Also, the app provides answers to the most asked questions about pregnancy. Women can track their pregnancies stage-by-stage and read wonderful, honest reviews of baby products.

3. Pregnancy and Baby Tracker
What to Expect's Pregnancy and Baby Tracker covers practically all aspects of pregnancy. Women can find informative articles, read advice from specialists, see recommended baby and maternity products, watch videos and tutorials from other mothers, and learn general tips to help prepare for the baby's delivery.

4. I'm Pregnant – Pregnancy Tracker

Available for all Android-supported devices, the I'm Pregnant pregnancy tracker comprehensively covers the whole pregnancy experience. It includes a pregnancy diary and a calendar to keep track of all the mother's experiences.
It also gives recommendations about what foods to eat and to avoid, what exercises to engage in, and what music to listen to. It even has a selection of baby names. First-time mothers can find a hospital baby bag checklist and tips from other experienced mothers and specialists.

5. Pregnancy Assistant
Pregnancy Assistant is a particularly accurate and precise app that has amazing reviews. It is recommended for all mothers who wish to track each and every single pregnancy detail.
Mothers can calculate their due dates, monitor the baby's kicks, access a step-by-step guide that covers everything from pregnancy to delivery, and receive tips from experts.

6. Pregnancy ++
Pregnancy ++ is recommended for any mother who wants to keep track of every little detail of her pregnancy. Mothers can access a personalized diary and calendar that monitors pregnancy weight gain and records scheduled doctor visits.
The app even includes a kick tracker and a contraction counter/timer. A baby shopping list and guidelines for packing a baby bag are also available, along with expert advice about diet and exercise and general pregnancy tips.

7. Pregnancy Due Date Calculator
Pregnancy Due Date Calculator is a must-have for all mothers for one simple reason: It prevents mothers from being caught off guard by the sudden arrival of the baby. Supported by science, this app is more accurate when a woman knows the exact dates of her menstrual cycle.
Use this app to get ready and to avoid last-minute rushes. Adequate preparation is essential for any pregnancy and makes the experience even more memorable.

8. Baby Names – Boy and Girl
The safe delivery of your baby is the ultimate culmination of pregnancy. Baby Names – Boy and Girl helps parents select baby names in advance regardless of gender.  Choose from a wide range of names recommended for you and find out each name's meaning and origin.

9. Full Term – Contraction Timer
The Full Term contraction timer helps ensure that the final stages of pregnancy are safe and free of any complications. From the very first contraction, the Full Term app assists mothers during every second of the delivery process.
Known for its ease of operation, this app even has a way for mothers to specify the intensity and length of each contraction. The app also lets mothers adjust and edit their notes in case they forget to record a contraction. Thus, mothers are able to monitor their progress during labor.
Conclusion
It is important to keep track of your pregnancy in order to detect or avoid any complications that may arise. Pregnancy apps help mothers prepare for their babies in several ways. Mothers can maintain their health and fitness, shop for baby supplies, and find support and advice.
Many pregnancy trackers contain ads. Nevertheless, most of them are free to install and use. They cover a multitude of topics and provide free access to daily tips that guide mothers toward a successful delivery. Also, first-time mothers can find advice from experienced mothers and experts to help relieve the anxiety of first-time motherhood.